fnctId=book,fnctNo=0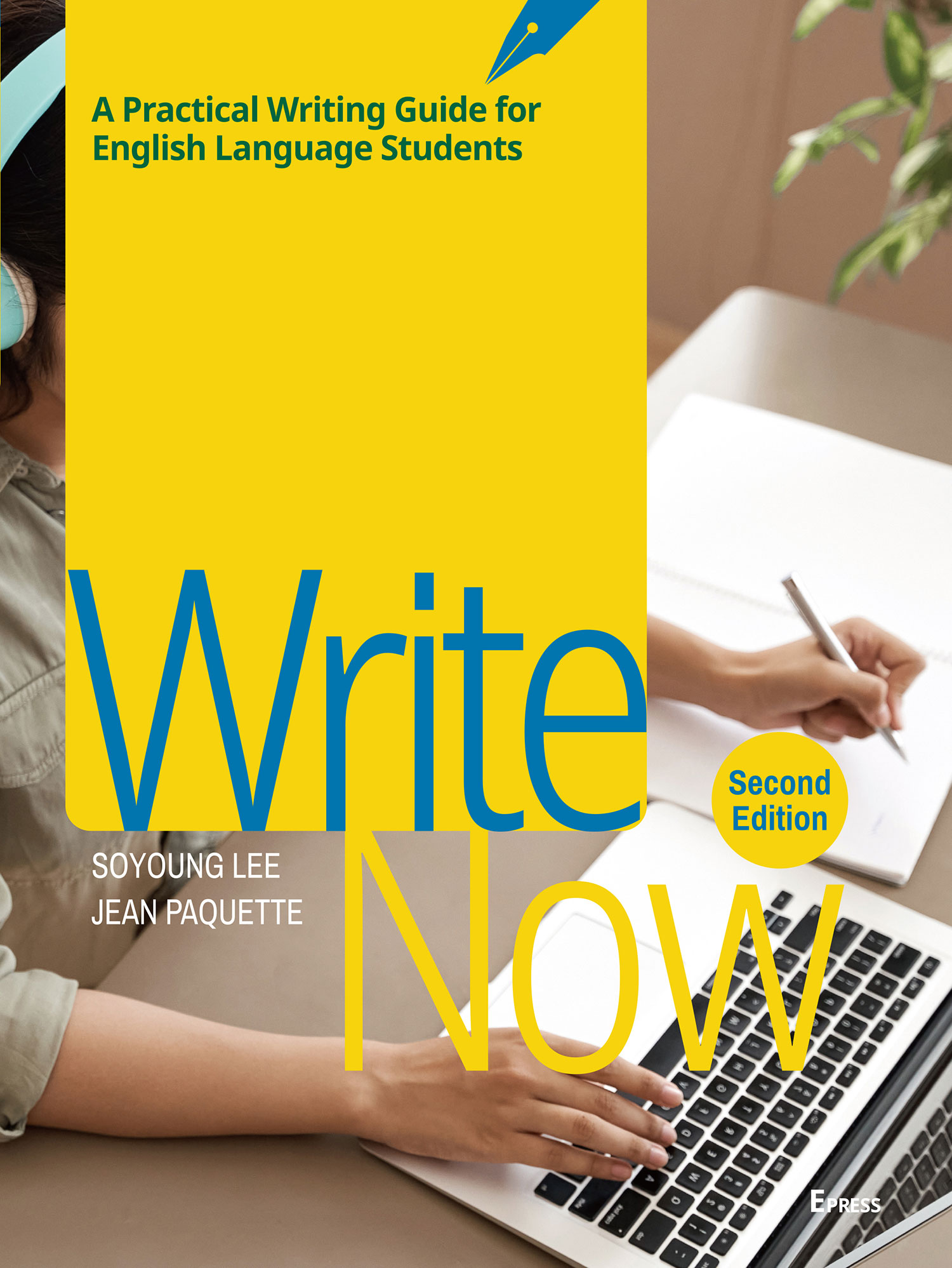 [EBOOK] Write Now (Second Edition)
A Practical Writing Guide for English Language Students
Author

Soyoung Lee, Jean Paquette
Publication

2021-02-28
Price

20,000 Won
Format

PDF
pages

344 pages
language

English
ISBN

9791158904203

on sale
About This Book

Write Now is a practical guide to English composition for Korean students whose English education had been composed of mainly reading and listening comprehension and who have difficulty with the English style of writing due to prior English education focusing exclusively on reading and listening. It takes a step-by-step approach including sentence, paragraph, and essay composition. This new edition of Write Now has been made into a PDF ebook so that students can have convenient digital access. The new edition also has a new section about patterns of organization and extensive sample essay of various genres specifically designed to illustrate successful academic writing. There is also a new unit about essential writing skills, including pre-writing questions and instructions for citing sources, using MLA and APA styles. The writers have taught English writing for many years in Korea and have been able to tailor the book contents to the needs of Korean students. Many existing writing books seem to be written for native-speaking students, featuring vocabulary which the average Korean student struggles with, and offer limited opportunity for targeted practice. Write Now provides examples, exercises, and activities at varying levels and with understandable vocabulary so that students are not "caught up" with words but can concentrate on writing skills, and it features abundant exercises with which students can confirm what they have learned in the process of improving their weaker skills.

This book has many examples and exercises so that students can really understand, not only in theory but through practice, what English academic writing is. Unit 1 Sentence Writing deals with writing complete sentences, subordinating ideas, and combining sentences. Unit 2 Paragraph Writing and Unit 3 Essay Writing deal with processes involved in paragraph and essay writing. Exercises are provided within the text at an easier level, but students who want further practice at a more challenging level can find extension activities in Unit 5. Essential Writing Skills deals with advanced skills in writing, such as questions one should have in mind before starting to write, how different styles of genres are needed for different purposes, and how to incorporate material from outside sources in one's writing. In Unit 5 Paragraph and Essay Exercises, the extension activities have been grouped by target goals; a list of these activities can be used as a quick reference by teachers or students looking to find a specific type of activities. Some activities also have duplicates, allowing teachers to easily assign various amounts of practice, or to conveniently divide class practice from homework. In Unit 6 Essential Grammar Points, students can briefly go over grammar points they need for accurate writing, and they can check their understanding through the exercises.

The appendix covers rules for punctuation, italicization, and capitalization. Students can check their answers right away with the answers provided in the back. Write Now is organized so that students may not only learn and practice essential English writing skills but also improve on logical thinking so that they can write in English with confidence for their studies or at work.


How to purchase the Write Now (E-BOOK)?

Please click the link below.


Manual_How_to_purchase_the_Write now_(E-BOOK).pdf
Manual_How_to_purchase_the_Write now_(E-BOOK).pptx

About The Authors

Soyoung Lee, Jean Paquette
Soyoung Lee

Soyoung Lee was born in Seoul, Korea but spent her elementary school years in New York. After receiving regular schooling in Korea, she entered Ewha Womans University and majored in English Literature. She has received her bachelor's degree, master's degree, and Ph.D degree all from Ewha Womans University. Soyoung has also studied at Oregon State University as an exchange student and UC Berkeley as a visiting scholar. She has been teaching at Ewha Womans University from 1993 up to now. She has written a few books and articles on film and English literature and has co-authored several books for the Ewha Womans University Press, including some on woman's studies and IELTS writing. She really enjoys meeting students and motivating them to think more.



Jean Paquette

Jean Paquette is a French-Canadian who was born in Montreal. After graduating from University of Montreal with a B.A. in English Studies, he came to Korea in 1997 to teach English for one year. Having a love for learning languages, he also started to informally learn Korean. Going back to University of Montreal in 1998 to complete a M.A. in English Studies, he took Korean classes. In 2001, he came back to Korea on a fellowship to study Korean at Yonsei University Korean Language Institute. He then resumed teaching English again in 2003. He has been teaching at Ewha Womans University since 2006, where his teaching experience is constantly inspiring him with ideas for new materials to help students enjoy learning English. He has taught various kinds of classes, including writing intensive classes, and has been the coordinator of the Writing Clinic at Ewha Womans University.

Table of Contents

Preface

Unit 1 SENTENCE WRITING

The Simple Sentence

Fragments vs. Complete Sentences

Subjects and Verbs

Objects and Complements

Making Negative Sentences and Questions

The Compound Sentence

Compound Sentences with Coordinating Conjunctions

Compound Sentences with Conjunctive Adverbs

Compound Sentences with Semicolons

The Complex Sentence

Adverbial Clauses

Adjective Clauses

Noun Clauses

Writing Better Sentences

Compound-Complex Sentences

Other Ways to Combine Sentences

Pronouns

Choppy Sentences

Parallelism

Run-on Sentences/Comma Splices

Stringy Sentences

Unit 2 PARAGRAPH WRITING

What is a paragraph?

Paragraph Analysis

Format

Content Structure

Paragraph Content

Writing Procedure

Step 1: Writing the Topic Sentence

Step 2: Generating Ideas

Step 3: Outlining

Step 4: Writing the Paragraph

Step 5: Revising and Editing

Final Checklist

Peer Editing

Peer Editing Procedure

Peer Editing Samples-Paragraphs

Patterns of Organization

Listing Pattern

Sequence Pattern

Compare/Contrast Pattern

Cause-effect Pattern

Problem/Solution Pattern

Unit 3 ESSAY WRITING

What is an Essay?

Expanding a Summary Paragraph into an Essay

Broadening the Main Idea and Adding Body Paragraphs

Essay Analysis

Format

Content Structure

Writing Procedure

Step 1: Writing the Thesis Statement and Topic Sentences

Step 2 & 3: Generating Ideas and Making an Outline

Step 4 & 5: Writing, Revising and Editing the Body

Step 6: Writing the Introduction

Step 7: Writing the Conclusion

Final Checklist

Peer Editing

Peer Editing Procedure

Peer Editing Sample-Essay

Unit 4 ESSENTIAL WRITING SKILLS

Pre-Writing Questions

Subject

Purpose

Audience

Different Genres

Descriptive

Argumentative

Contrast

Examples of Other Genres

Researched Essay (citing sources)

Making the List of References

Making In-Text Citations

Quoting

Paraphrasing and Summarizing

Sample Research Essays (MLA/APA)

Unit 5 PARAGRAPH AND ESSAY EXERCISES

Activities for Paragraph Cohesion (Identifying)

Activities for Supporting Sentences

Activities for Topic Sentences

Activities for Supporting Ideas

Activities for Paragraph Organization

Activities for Paragraph Writing

Activities for Concluding Sentences

Activities for Improving Paragraphs

Activities for Essay Structure

Suggested Topics for Paragraph Writing

Unit 6 ESSENTIAL GRAMMAR POINTS

Verb and Verb Tenses

Nouns

Articles

Adjectives

Adverbs

Modals

Prepositions

Appendix

Capitalization and Italics

Punctuation

Irregular Past Tenses

Answers to the Exercises

Index