fnctId=book,fnctNo=0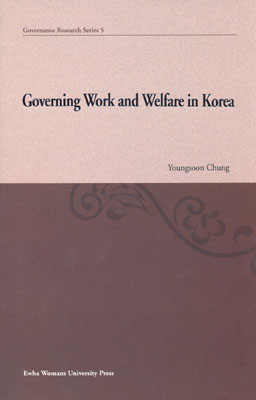 Governing Work and Welfare in Korea
Author

Youngsoon Chung
Publication

2006-05-31
Price

10,000 Won
Format

145×225
pages

144 pages
language

English
ISBN

8973006975

on sale
About This Book




Korean governments appear to have followed the global trends of positive labor market policy and workfare strategy as well. In practice, however, there have been substantial differences between the strategies of the Korean governments and those of Western countries, due to different employment and welfare systems and different levels of acceptance of ideologies and policies. The purpose of this book is to review the experiences of Western countries in positive labor market policy and workfare strategy in order to provide good insight and valuable lessons to Korea.
In this book, the changes of ideology from n대-liberalism to the Third Way and its impact on the employment and welfare policies in the U.K. and in Korea are analyzed to understand the process of restructuring employment and welfare policies, following changes in ideology. In addition, the successful experiences of the U.K. in its reform of the vocational training and delivery systems are analyzed with a view to draw some lessons for the direction of reform in Korea. Further, the earned income tax credit programs of the U.S. and the U.K. are analyzed, with an explicit objective of obtaining valuable guidelines and lessons in determining the key design elements of the newly introduced Korean earned income tax credit program.
About The Authors

Youngsoon Chung
Professor of Social Welfare at Ewha Womans University.
She received her Ph.D. in Social Welfare from the University of Illinois at Urbana-Champain.
She Served as President of the Korean Social Security Association. She is currently Chairperson of the Subcommittee on Social Affairs under the Korea Triparite Commission.

Table of Contents