fnctId=book,fnctNo=0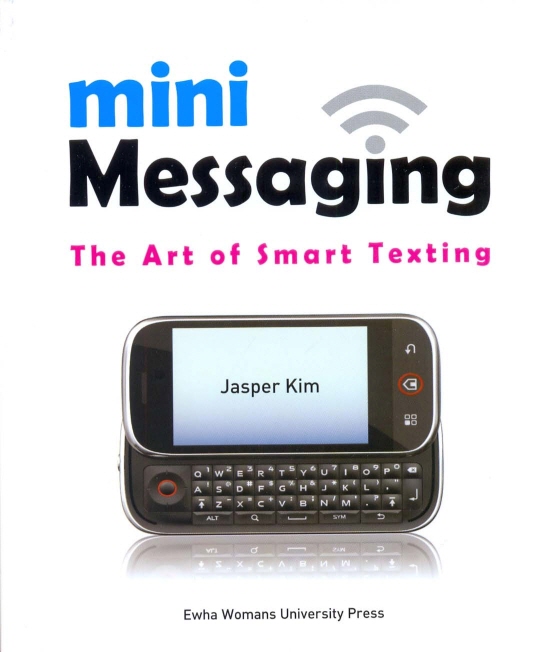 Mini Messaging
The Art of Smart Texting
Author

재스퍼 김
Publication

2010-03-31
Price

7,000 Won
Format

변형국판
pages

144 pages
language

English
ISBN

9788973008698

on sale
About This Book

​




Mini Messaging: The Art of Smart Texting

relates to writing strategies primarily aimed for texting, microblogging, instant messaging (IM), smart phone messaging and other condensed digital communications. It is a modern day version of the classic writing textbook, Strunk and White's "Elements of Style" for the Web 2.0 environment, applied to digital messages with limited writing space such as using 140 characters for Twitter, several short sentences for Facebook comments, smartphone messaging, and IM—collectively referred to as a "Mini Message"—packaged in a creative, succinct and user-friendly approach.

Mini Messaging is meant to be a fun yet informative short text relating to short texts. It is primarily aimed at Mini Messaging, but it can also be applied to longer and more general writing styles. This "mini book" is essentially a writing strategy book, but packaged creatively to maximize its understanding potential and readership interest. But this mini book is not all play—underneath the creative packaging exists fundamental principles related to the art and science of using Plain English for short messaging strategies. Writing in Plain English—simple, concise sentences—has always been important, even before Web 2.0. But when you only have a few words to make your point using digital devices, then Plain English for the 2.0 environment—referred to as "Plain English 2.0"—becomes ever more important.

Although books exist relating to texting marketing, etiquette and psychology, this is the first and only book related to writing strategies for "smart texting" (e.g., smartphone texts, emails, IM, blogging, and even traditional writing) that provides related methods and strategies that employs minimal word usage. By taking this "mini word" approach, the book follows the same type of word constraints to those of the subject matter (Mini Messages). Given the enormous convergence towards new social media such as Twitter, Facebook and text messaging generally, this book will give you the necessary strategies to get maximum value out of all your Mini Messages.
About The Authors

재스퍼 김
이화여자대학교 국제대학원 국제학과 부교수로 재직 중이며 학과장을 맡고 있다. 미국의 공인 변호사이며 도쿄, 홍콩, 뉴욕 등지에서 변호사와 증권업자로 일하기도 했다. 학생들을 위한 무료 작문 사이트인 Ohmydocs.com을 만들어 운영하고 있다. BBC Worldwide TV와 라디오에 출연했으며, 월스트리트저널, 뉴욕타임즈, 블룸버그뉴스, 코리아헤럴드 등을 비롯한 여러 언론 매체에 칼럼을 기고했다. 주요 저서로는 Korean Business Law: The Legal Landscape and Beyond, Master of the Universe, Crisis and Change: South Korea in a Post-1997 New Era 등이 있다.





Table of Contents

INTRODUCTION

THE ART OF SHORT MESSAGING STRATEGY (SMS):
20 RULES FOR THE 2.0 ENVIRONMENT

1. KEEP IT SIMPLE AND SPEEDY (KISS 2.0)
2. TRY TO BE PC (PUNCTUAL AND CLEAR)
3. COLLOQUIAL CONNECTION
4. GET IN, GET OUT (GIGO)
5. FRAME (ISSUE) FIRST
6. FIRST IN, LAST OUT (FILO)
7. AUDIENCE AWARENESS
8. DR. FILL SYNDROME
9. EMOTICON ETIQUETTE
10. DOSE OF DRAMA
11. ATTACK OF THE ACRONYMS!
12. CYBER-SEQUENCING
13. ONE HIT WONDERS
14. THE "X" FACTOR
15. ACTIVE ACTIVITY
16. NEAR MISses
17. ANGST AIKIDO
18. TEXTOSTERONE TRAPS
19. MICROBRAND MANAGEMENT
20. PUNS N' PROSES

THE SCIENCE OF SHORT MESSAGING STRATEGY (SMS):
20 RULES FOR THE 2.0 ENVIRONMENT
1. EASY eNGLISH
2. SUBPRIME SENTENCES
3. ZAPPING ZOMBIE WORDS
4. AMUSING ADJECTIVES
5. VIBRANT (VALUE-ADDED) VERBS
6. NOMINALIZATIONS OF NOMINAL VALUE
7. PREPOSITIONAL PREPPIES
8. JEDI JARGON
9. CAPPING CAPS
10. LEGALLY BLAND
11. YUP, WE CAN!?
12. TOXIC TERMS
13. QWERTY OR QUIRKY
14. VERSES VS. VERSUS
15. LATIN LOVERS
16. O'BROTHER (WHERE ART THOU)
17. ALLITERATION ALLURE
18. JUST SAY NO TO S-V-O! (SUBJECT-VERB-OBJECT)
19. APPLIED PHDs (PUNCTUATIONS, HYPHENS AND DOTS)
20. "TRIPLE A" PAPER (ATTACHMENTS, ADDENDUMS AND APPENDICES)