fnctId=book,fnctNo=0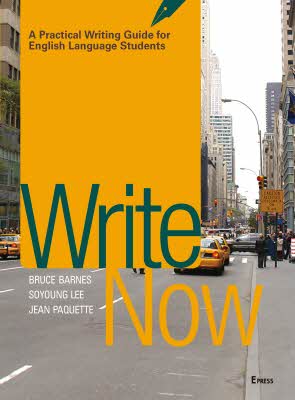 Write Now
A Practical Writing Guide for English Language Students
Author

Bruce Barnes, Soyoung Lee, Jean Paquette
Publication

2011-03-28
Price

15,000 Won
Format

188*245mm
pages

224 pages
language

English
ISBN

978-89-7300-913-8 13740

on sale
About This Book

​

Write Now is a practical writing guide for Korean students whose English education had been composed of mainly reading and listening comprehension and who have difficulty with the English way of writing. It takes a step-by-step approach including sentence, paragraph, and essay composition. The writers have taught English writing for many years in Korea and have been able to tailor the book contents to the needs of Korean students. Many existing writing books seem to be written for native-speaking students, featuring vocabulary which the average Korean student struggles with, and offer limited opportunity for targeted practice. Write Now provides examples, exercises, and activities at varying levels and with understandable vocabulary so that students are not "caught up" with words but can concentrate on writing skills and features abundant exercises in which students can confirm what they have learnt to reinforce their weaknesses.

Able to be used both a textbook and a self-study guide, Write Now is divided into 5 parts. Unit 1 deals with writing complete sentences, subordinating ideas, and combining sentences. Units 2 and 3 introduce formating, content structure, and the processes of writing paragraphs and essays. Exercises are provided within the text at an easier level so that students can confirm and practice what they have learnt right away, but students who want further practice at a more challenging level can turn to Unit 4 for extension activities. Unit 5 and the appendix cover essential grammar points and punctuation needed for writing accurate sentences.
About The Authors

Bruce Barnes, Soyoung Lee, Jean Paquette
Bruce Barnes
호주 에디스코완대학교에서 교육학 전공으로 박사학위를 취득했다. 1996년에 한국에 와서 영어를 가르치기 시작했으며 숙명여자대학교 TESOL 교수 등을 거쳐 현재 이화여자대학교 교양영어실 전임교수로 재직 중이다. 학생들을 가르치는 일을 좋아하고 학생들의 능력에 맞춘 교육 프로그램을 개발하는 데 관심이 많다. 영작문과 영어 교육에 관한 논문과 저서가 다수 있다.


Soyoung Lee
한국에서 출생해서 미국 뉴욕에서 초등학교를 다녔다. 한국으로 돌아와 중․고등학교를 마치고 이화여자대학교에 입학해 영문학을 전공했으며, 동 대학원에서 석사․박사학위를 받았다. 교환학생으로 미국 오레곤주립대학교에서, 초빙학자로 미국 버클리대학교에서 수학한 바 있으며, 현재 이화여자대학교 교양영어실 전임강사로 재직 중이다. 『영화로 읽는 영미소설 1: 사랑 이야기』(공저), 『연애소설』(공역) 외 영화와 영문학에 관한 논문과 저서가 다수 있다.

Jean Paquette
캐나다 몬트리올대학교 영문학과를 졸업하고 잠시 한국에서 영어를 가르쳤다. 캐나다로 돌아가 동 대학원에서 석사학위를 취득한 후 한국국제교류재단에서 수여하는 장학금으로 연세대학교 한국어학당에서 1년간 한국어를 공부했다. 이후 다시 한국에서 영어를 가르치기 시작하여 현재 이화여자대학교 교양영어실 전임강사로 재직 중이다. 학생들이 재미있게 영어를 배울 수 있도록 새로운 교재를 개발하는 일에 관심을 가지고 있다.


Table of Contents

Preface

Unit 1 SENTENCE WRITING
The Simple Sentence
Fragments vs. Complete Sentences
Subjects and Verbs
Objects and Complements
Making Negative Sentences and Questions
The Compound Sentence
Compound Sentences with Coordinating Conjunctions
Compound Sentences with Conjunctive Adverbs
Compound Sentences with Semicolons
The Complex Sentence
Adverbial Clauses
Adjective Clauses
Noun Clauses
Writing Better Sentences
Other Ways to Combine Sentences
Choppy Sentences
Parallelism
Run-on Sentences and Comma Splices
Stringy Sentences

Unit 2 PARAGRAPH WRITING
What is a Paragraph?
Paragraph Analysis
Format
Content Structure
Paragraph Content
Writing Procedure
Step 1: Writing the Topic Sentence
Step 2: Generating Ideas
Step 3: Outlining
Step 4: Writing the Paragraph
Step 5: Revising and Editing

Unit 3 ESSAY WRITING
Essay Analysis
Format
Content Structure
Writing Procedure
Step 1: Writing the Thesis Statement and Topic Sentences
Step 2 & 3: Generating Ideas and Making an Outline
Step 4 & 5: Writing, Revising, and Editing the Body
Step 6: Writing the Introduction
Step 7: Writing the Conclusion
Different Genres of Writing
Descriptive
Argumentative
Contrast
Examples of Other Genres

Unit 4 PARAGRAPH AND ESSAY EXERCISES

Unit 5 ESSENTIAL GRAMMAR POINTS

Appendix
Index