fnctId=book,fnctNo=0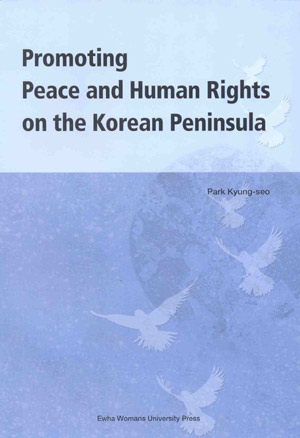 Promoting Peace and Human Rights on the Korean Peninsula
Author

박경서
Publication

2007-04-27
Price

13,000 Won
Format

152mmX225mm
pages

264 pages
language

English
ISBN

9788973007417

on sale
About This Book

The establishment of peace on the Korean peninsula is very important for both South and North Korea, but is also directly related to peace in North-East Asia and the world. Peace on the Korean peninsula means not only peace for 70 million Korean people but, at the same time, peace for all the world.
This book comprises writings penned over the past six years, arising out of the deep desire for peace and human rights, with a focus particularly on the Korean peninsula. The writings consistently approach the mutually inseparable issues of peace and human rights from a global perspective.


Dr. Park Kyung-seo, Distinguished Professor of the Ewha Academy for Advance Studies, served as Ambassador at Large for Human Rights, ROK, for the past six years. This book is a compilation of his addresses and of his writings for the monthly magazine "Peace Letters" published by the North-East Asia Peace Institute (NEAPI) established seven years ago by himself.
About The Authors

박경서
서울대학교에서 사회학을 전공하고,
University of Goettingen에서 석,박사 과정을 마쳤다.

Table of Contents

Ⅰ. Globalization, Violence and Peace

Ⅱ. Peace Letters from Seoul