fnctId=book,fnctNo=0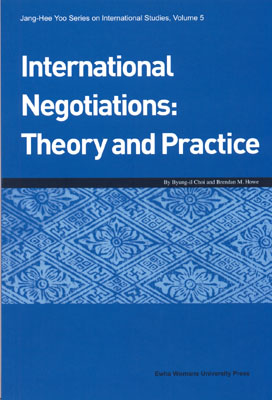 International Negotiations: Theory and Practice
Author

최병일, 브랜단 하우
Publication

2007-01-30
Price

10,000 Won
Format

152mm×225mm
pages

136 pages
language

English
ISBN

9788973007325

on sale
About This Book

Jang-Hee You Series on International Studies, Volume 5

International Negotiations: Theory and Practice


The basis of human interaction is negotiation, whether with friends, relatives, co-workers of strangers. However, what differentiates international negotiations from all other forms is the absence of overarching authority to enforce agreements once reached. This has a major impact upon both the process of international negotiations and the rationality of players concerned. This book provides an overview of theories that have been developed to explain the workings of international negotiations, and some insights into their practical applications.
About The Authors

최병일, 브랜단 하우
최병일 이화여대 국제학부 교수·국제통상협력연구소장/국제대학원장·Ph.D.·Yale Univ.·국제협상
Brendan M. Howe 이화여자대학교 국제학부 교수

Table of Contents