fnctId=book,fnctNo=0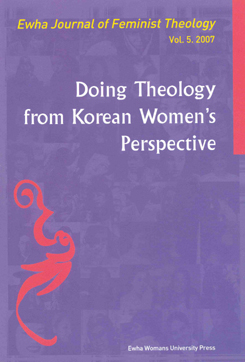 EJFT Vol.5: Doing Theology from Korean Women's Perspective
Author

이화여성신학연구소
Publication

2008-05-01
Price

10,000 Won
Format

152x225
pages

191 pages
language

English
ISBN

1226-816X75

on sale
About This Book

EJFT(Ewha Journal of Feminist Theology)

Doing Theology from Korean Women's Perspective

Vol.5: 2008

EJFT is an English journal published once a year by the Ewha Institute for Women's Theological Studies.

It deals with topics related to women and theology.
About The Authors

이화여성신학연구소
이화여성신학연구소

Table of Contents

Preface

PartⅠ. Rethinking Theology: "Life-celebreated"
Part Ⅱ. Encounting "Otherness" : "Life-given"
Part Ⅲ. Interpreting the Bible: "Life-embraced"
Part Ⅳ. Evaluating Religious Traditions: "Life-embedded"